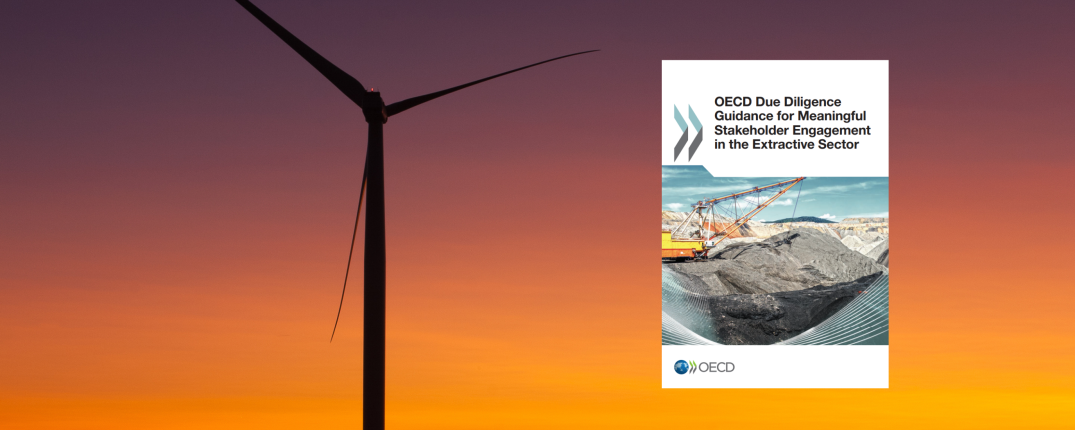 The OECD Due Diligence Guidance for Meaningful Stakeholder Engagement in the Extractive Sector provides recommendations to mining, oil, and gas enterprises on how to effectively engage with stakeholders in a transparent and accountable manner. The guidance was developed with input from various stakeholders and is supported by 46 adhering governments. It serves as a complement to the OECD Guidelines for Multinational Enterprises. For wind energy projects, the traditional extractive industry can provide invaluable insights into how to conduct projects near communities, without damaging effects, for both the community and its sustainable development and the developer's reputation and profit.
The document is divided into two sections: recommendations for corporate planning and management and recommendations to on-the-ground personnel. However, both groups are encouraged to read both sections to have a holistic overview of the necessary changes to strategy and operations.
The guidance highlights the importance of stakeholder engagement in the extractive sector due to the potential social and environmental impacts of its operations. Meaningful engagement can contribute to obtaining and retaining a social licence to operate, identifying and addressing risks and concerns, avoiding reputational risks, streamlining approval processes, reducing conflicts, improving risk profiles for investors, and attracting and retaining employees.
The document provides definitions for key terms such as due diligence, two-way engagement, good faith engagement, responsive engagement, and ongoing engagement. It also outlines different modes of engagement, including informing/reporting, consulting, negotiating, and responding.
The recommendations for corporate planning and management emphasise the need for the integration of stakeholder engagement within an organisation. This includes adding a commitment to stakeholder engagement to company policy, integrating engagement into management systems, considering engagement issues in business relationships, and establishing feedback loops to incorporate stakeholder views into decision-making processes.
The recommendations to on-the-ground personnel focus on ensuring a strong understanding of the community fabric and its interaction with the project. This involves consulting with technical personnel, conducting field research, and continuously improving understanding. It also emphasises the identification and prioritisation of stakeholders, providing necessary support to these stakeholders for effective communication, and designing appropriate engagement activities and processes. Finally, it outlines the requirement to follow-through on outcomes, monitor and evaluate engagement activities, and respond to identified shortcomings by adapting the engagement concept.
While the guidance provides valuable recommendations, it has been noted that it still separates corporate management and on-the-ground personnel, without exploring the potential for direct involvement of management in on-the-ground operations, and direct participation of communities and stakeholders in decision-making.
The policy brief concludes by emphasising the significance of stakeholder engagement in mitigating risks, avoiding adverse impacts, and realising the benefits of extractive operations. It underlines the need for enterprises to conduct due diligence throughout the entire life cycle of projects and be accountable for addressing impacts. Monitoring, evaluation, and responsiveness are crucial elements of effective stakeholder engagement.
Overall, the OECD Due Diligence Guidance for Meaningful Stakeholder Engagement in the Extractive Sector provides practical tools and approaches for extractive sector practitioners to manage risks and promote meaningful stakeholder engagement. By implementing these recommendations, enterprises can foster sustainable relationships, respect stakeholder interests, and contribute to positive social and environmental outcomes.